Artists create art through various mediums, including oil, watercolor, collage materials, acrylics, pastels, pen and ink, computers, and blocks and rollers. Some artists create work for organizations such as book publishers, graphic design firms, and advertising agencies, while fine artists often work for themselves and sell their art in galleries, as well as at craft and art shows. Art can be realistic, or it can be abstract. Some artists specialize in a particular medium, such as oils or pastels, while others dabble in a wider variety of media.

Some artists develop their skills through bachelor's degree programs or other specific training in art and design, while others are mostly self-taught. While formal schooling is not necessary, it does help artistic professionals hone their craft. Graphic artists, in particular, generally require schooling or specific coursework in order to work in the field of graphic design.

Some artists work in office environments, while others work in studios that are located in office buildings, art cooperatives, warehouses, galleries, or lofts. Still others work in home studios. Commercial artists who work for publishers, graphic design studios, or advertising agencies may spend long hours in front of computers or at their art stations, while others have more flexible schedules that allow them to do their art when they are feeling most creative. Some artists work a typical 40-hour workweek, while others have extremely flexible schedules that may include nights and weekends.

Artists who wish to make a living at their art typically develop a portfolio of work that shows a collection of the artist's best work. While the artist will ultimately be judged on his or her skill and talent, the quality of the portfolio itself, and how it presents the work, will have significant bearing on how the work is viewed. Serious artists often take courses solely about developing a portfolio, while others find an experienced artist to mentor them.

The job outlook for artists, as well as their earnings, varies greatly depending upon the type of art they do. While some successful independent artists may be able to make a living selling their art through galleries and art shows, salaried artists that work for firms and organizations typically experience more financial security.

For information about art education, including college-level programs, visit the National Association of Schools of Art and Design website. This Art School Directory lists art education resources in every region of the United States.
---
Copyright 2010-2022 Zeducorp.
All rights reserved.
About us
.
Artist Career Guide
Related Images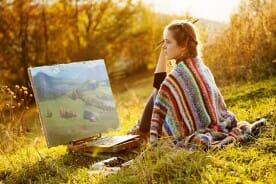 Artist Painting Outdoors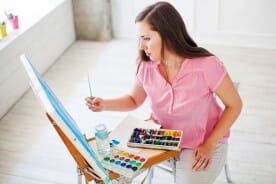 Watercolor Artist At Work In Her Studio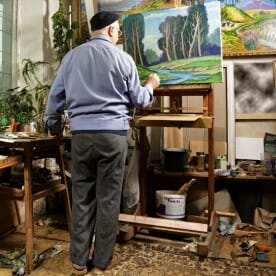 Artist Painting